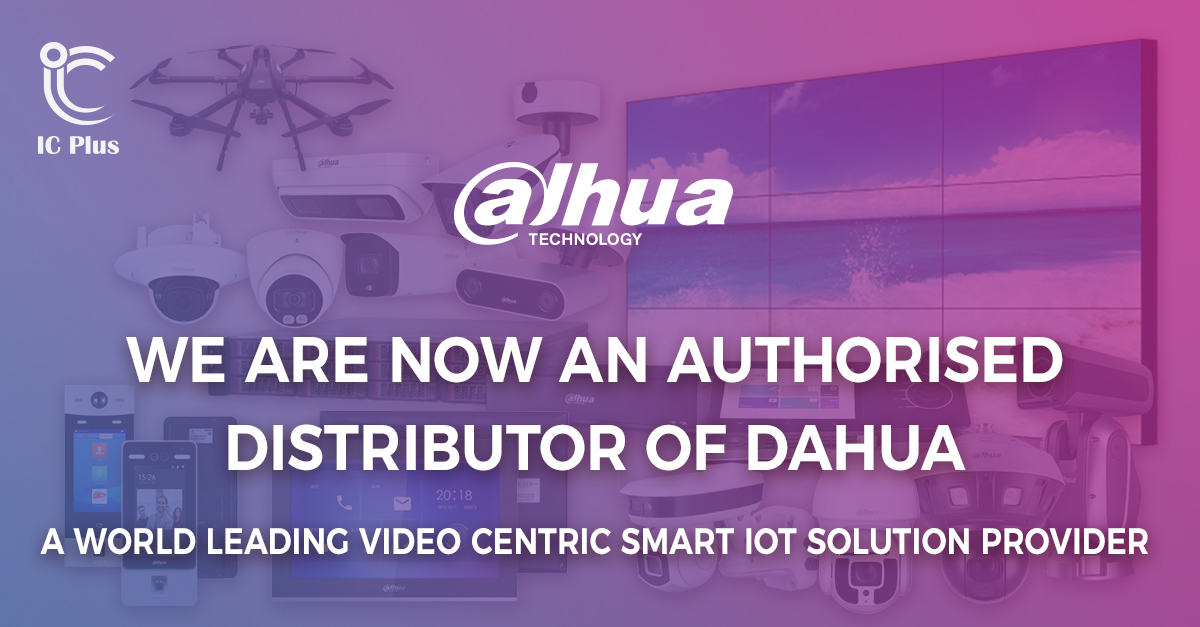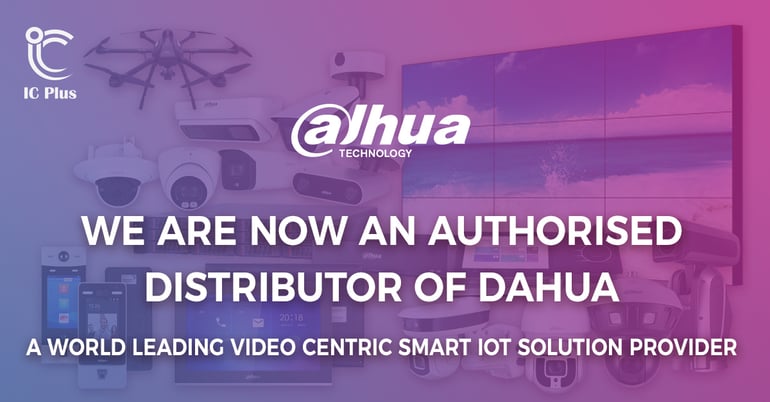 Today we announce we have further increased our co-operation with Dahua and are now authorised distributor for Dahua's complete product range.
Martin Griffin, IC Plus, CEO said, "The introduction of Dahua video solutions into our portfolio further expands our long running co-operation with Dahua. As a long-term partner in the Dahua eco-system we have un-rivalled experience in supporting Dahua's product suite. Dahua's product suite continues to develop and mature and we firmly believe that Dahua is an excellent choice for security integrators."
IC Plus will offer Dahua customers pre and post-sales support by leveraging our dedicated teams and expertise in security, AV and networking.
Lilia Zhang, Dahua, General Manager said "Dahua is delighted to welcome IC Plus as an authorised distributor, following extensive analysis of the market it soon became clear IC Plus were the ideal partner for Dahua. Their expertise in video surveillance was hugely appealing combined with their extensive support structures. We are confident that with IC Plus's service levels, technical backup and training opportunities, customers in Ireland will benefit enormously from this move."
Dahua Authorised Training Partner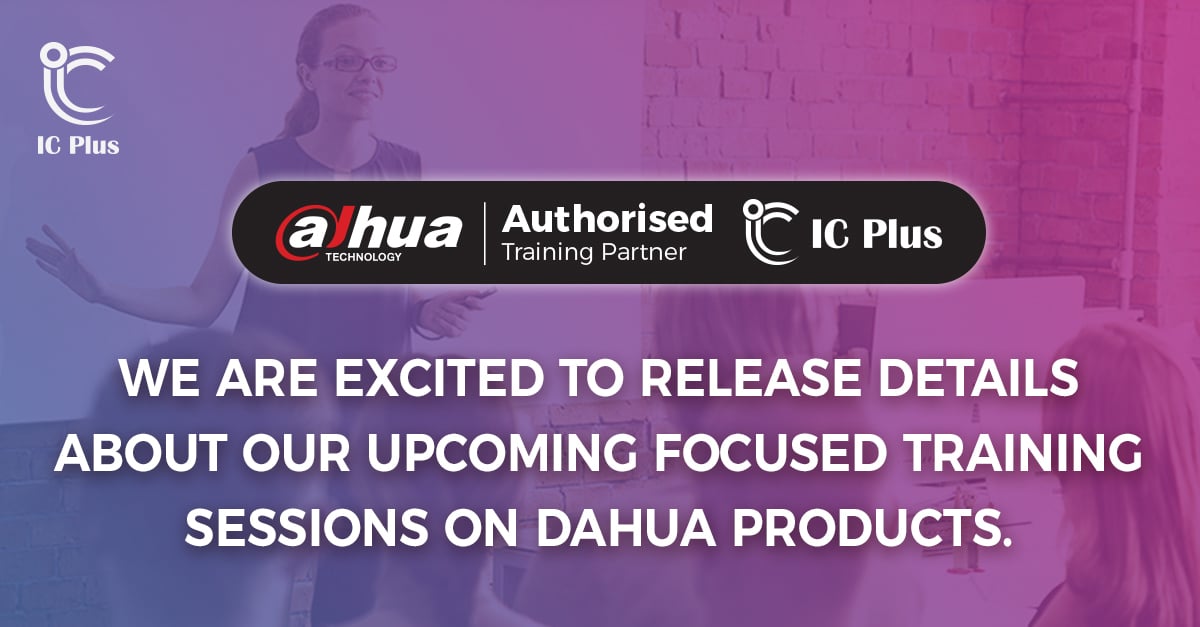 We are excited to release details about our upcoming integrator training sessions on Dahua products.
Friday September 27th (08:30 ~ 16:00) - Dahua DHSA Certified Training
Friday 25th October (08:30 ~ 16:00) – Dahua DHSP Certified Training
Training will be conducted by approved Dahua Trainers. Each training is €49+VAT per attendee and booking can be made via EventBrite below, in return for the training fee, IC Plus will issue 2 x €/£50 vouchers (terms apply) for use on IC Plus's Trade Only Webstore.
There is 3 levels of Dahua training that will be on offer:
VSS-DHSA (Video Surveillance System - Dahua Security Associate)
VSS-DHSP (Video Surveillance System - Dahua Security Professional) - you must have completed the VSS-DHSA course before completing this.
VSS-DHSE (Video Surveillance System - Dahua Security Expert) - Program will launch Q4 2019
Dahua Stock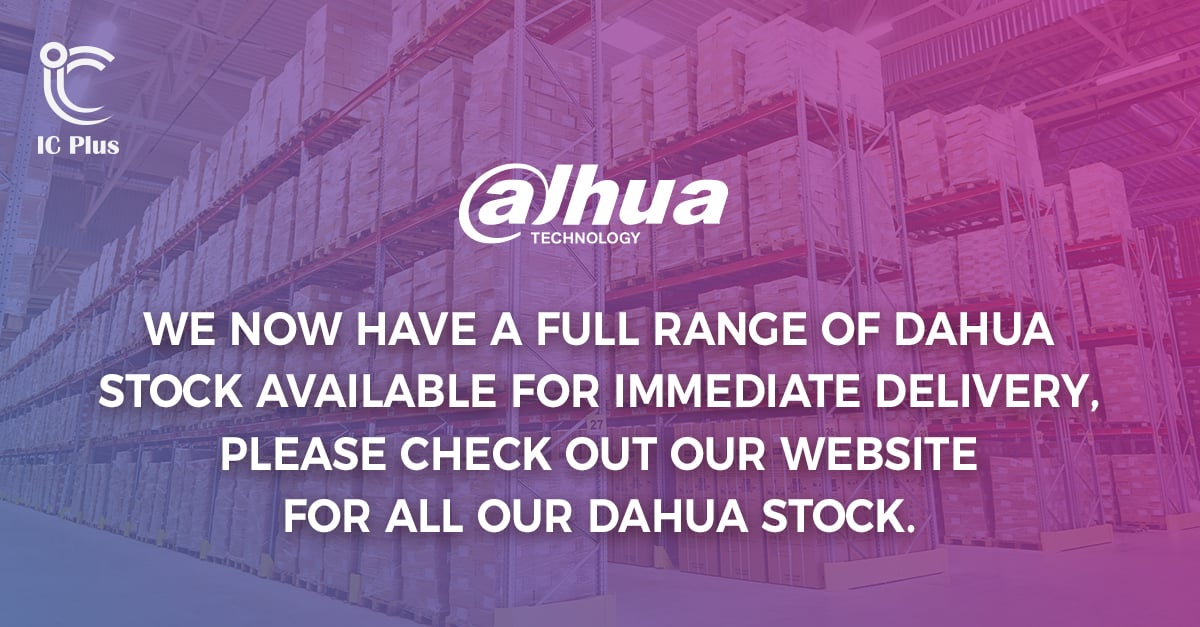 We now have a full range of Dahua stock available for immediate delivery, please check out our website for all our Dahua stock.
About Dahua

Zhejiang Dahua Technology Co., Ltd. (Dahua Technology) is a world-leading video-centric smart IoT solution and service provider. Based on technological innovations, Dahua Technology offers end-to-end security solutions, systems, and services to create values for city operations, corporate management, and consumers.
With more than 16,000 employees and over 50% engaged in R&D, Dahua solutions, products, and services are applied in over 180 countries and regions. Since the launch of the industry's first self-developed 8-channel embedded DVR in 2002, Dahua Technology has devoted itself to technological innovation and been continually increasing its investment in R&D, putting around 10% of its annual sales revenue into R&D. The company continues to explore emerging opportunities based on video IoT technologies and has already established business in machine vision, video conferencing systems, professional drones, electronic license plates, RFID, and robotics etc.
Dahua 2018 Statistics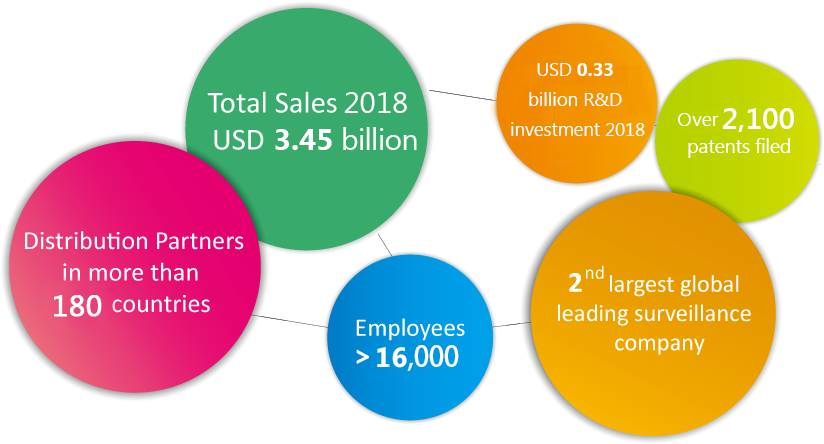 Dahua History

2001 Dahua Technology founded, enters the field of video surveillance.
2002 Dahua Technology releases the world's first 8-channel real-time embedded DVR.
2008 IPO on the Shenzhen Stock Exchange on May 20th, 2008
2012 Dahua Technology launched the in-house HDCVI technology, which was later adopted by the HDcctv Alliance and became the first international standard in the domestic security industry.
2014 Dahua Technology adopts cloud technology.
Enters the consumer security market by establishing the Imou brand (formerly known as Lechange).First overseas subsidiary founded in the USA.
2016 Dahua Technology obtains CMMI Level 5 certification, solidifying a world-leading position in software development capabilities.
2017 European supply center begins operations.
2018 Achieved CNY 23.66 billion (USD 3.45 billion) in operating revenue. YOY growth: 25.58%. Focused on building core competency. Maintained high R&D investment with CNY 2.28 billion (USD 0.33 billion) in 2018.
FUTURE
Provides smart IoT solutions and services based on the core competency in video and AI technology.