HDMI Extension Solution for Professional Audio/ Video installation
HE04SEK is a 1-in-4-out HDMI distribution amplifier that can use CAT5e (or better) cables to extend and split the signal for up to 70M. Plugin your HDMI source and you can easily use cost-effective network cables to send 4 HDMI signals to the remote ends. The transmitter (HE04SET) has a built-in HDMI loop-out port that can use to connect an extra HDMI display or the next transmitter to daisy chain up to 3 pcs and split up to 12 HDMI signals. Moreover, the receiver (HE01SER) is a dongle design, allowing you to directly connect an HDMI monitor without applying an actual HDMI cable. It's the perfect solution for bars, restaurants, churches, meeting rooms, classrooms, and surveillance rooms that require signal extension and distribution at the same time.
Designing for Projects - HDMI Distribution Amplifier, No Power Required for the Receivers

SC&T's HE04SET and HE01SER provide professional installation with flexible connections for video transmission on either the transmitter or receiver side. Together, they support long-distance connections and distributions to local and remote displays like PC monitors, TVs, projectors, and more. The HE04SET and HE01SER offer system integrators a flexible, and easy installation, enabling an enhanced monitoring work or learning experience for enterprise, education, and government clients.
Extending, Distributing at the Same Time
Need More Distance?

Extending over CAT5e cables
You can use cost-effective CAT5e (or better) cables to extend a 1080p HDMI signal for up to 40M.
Repeating your HDMI Signal
If 40M is not sufficient for the connection, you can add more distance with HR01 (each piece extends 50M further)

Need More Monitors?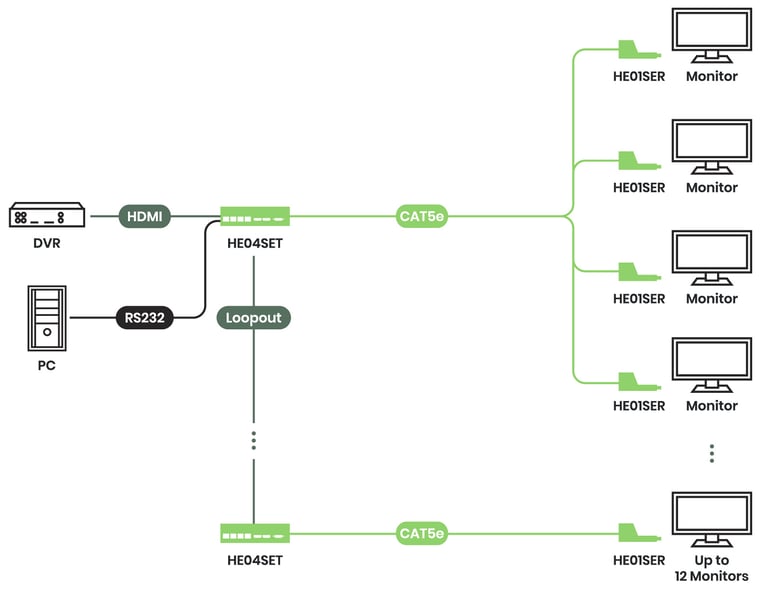 Stackable
The transmitter has a built-in HDMI loop-out port that can connect to the next same transmitter (Max. 3 pcs) to have up to 12 HDMI outputs for remote displays.
Local Loop-out
The loop-out port can also connect to an HDMI monitor on the local side, providing extra views for not only the people from distance but those on the local end.
User-friendly Design

Easy Installation
The dongle design allows you to directly plug in the HDMI input of an HDMI monitor without an actual HDMI cable.

EDID Management
Provides a variety of EDID options to choose from, which allows your videos to fit in displays with different resolutions supported.
RS232 Control
You can turn on/ off HDMI monitors on the remote end by simply typing in RS232 commands.