HKM01-4K is a 4K HDMI KVM extender that uses a cost-effective Ethernet cable to send HDMI, USB, Analog audio, RS232, and IR signals with transmission distance of up to 140 meters. Its TX unit has an HDMI loop-out port for an extra HDMI display. The built-in 4 USB2.0 ports at the RX unit allow you to control the connected HDMI device at the remote end. The KVM extender can perfectly apply to the broadcasting system, digital signage, home network integration, industrial control...etc.
What is an HDMI KVM Extender?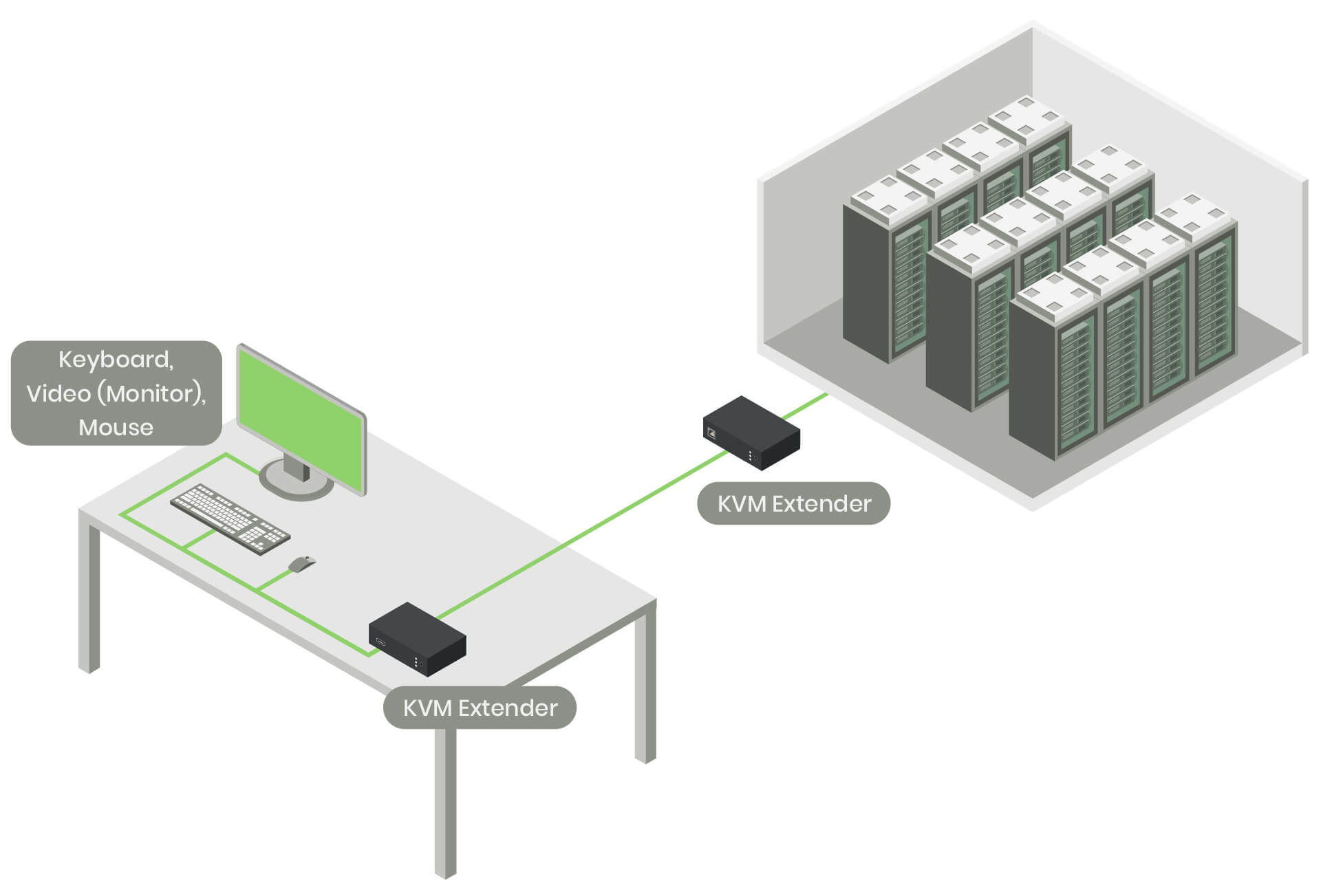 Compared to a regular HDMI extender, an HDMI KVM extender can not only transfer HDMI (Video & Audio) signal but also carry a USB signal to allow you to control a remote device like a PC, NVR, DVR...etc. The distance can vary with different transmission technology, from a hundred meters to a couple of kilometers. This type of extender is typically applied in IT, CCTV, and industrial fields, allowing operators to control a device from distance without entering the centralized data center.

With a max resolution of 4K@30Hz, built-in dual HDMI outputs, and featured audio embedding and extraction functions, HKM01-4K is a low latency HDMI KVM extender that applies AVoIP technology to bring the signals a hundred meters away over the Internet protocol. It also supports 4 USB 2.0 ports at the receiver unit, enabling your ability to use keyboards, mouses, and flash drives to control your remote PC. It's a suitable solution for CCTV, Pro AV, IT, and commercial fields.
Features

Resolution up to 4K@30Hz
140M over CAT6 cable
240M using Ethernet Repeater (SR01X)
60KM over single-mode fiber cable
LPCM7.1@192KHZ Audio Format
Built-in 3.5mm Line-in/ Line-out interface at Tx and Rx
Flexible Audio Applications

Can embed external audio into HDMI signal via a 3.5mm Line-in Diagram

Can extract audio from HDMI to play on an external audio speaker via a 3.5mm Line-out
USB KVM Transmission

Built-in 4 USB 2.0 (Type A) ports at Rx unit for USB camera, keyboard, mouse, and flash drive
Built-in USB-B at Tx unit to connect a host device like a PC (USB-B to A cable is included in the package)
Built-in Extra HDMI Output on Local End
The extra HDMI output allows you to monitor an NVR, DVR, or PC on the local end without using an HDMI distributor.

Multiple Ways of Control
IR Remote
RS232 Commands
USB