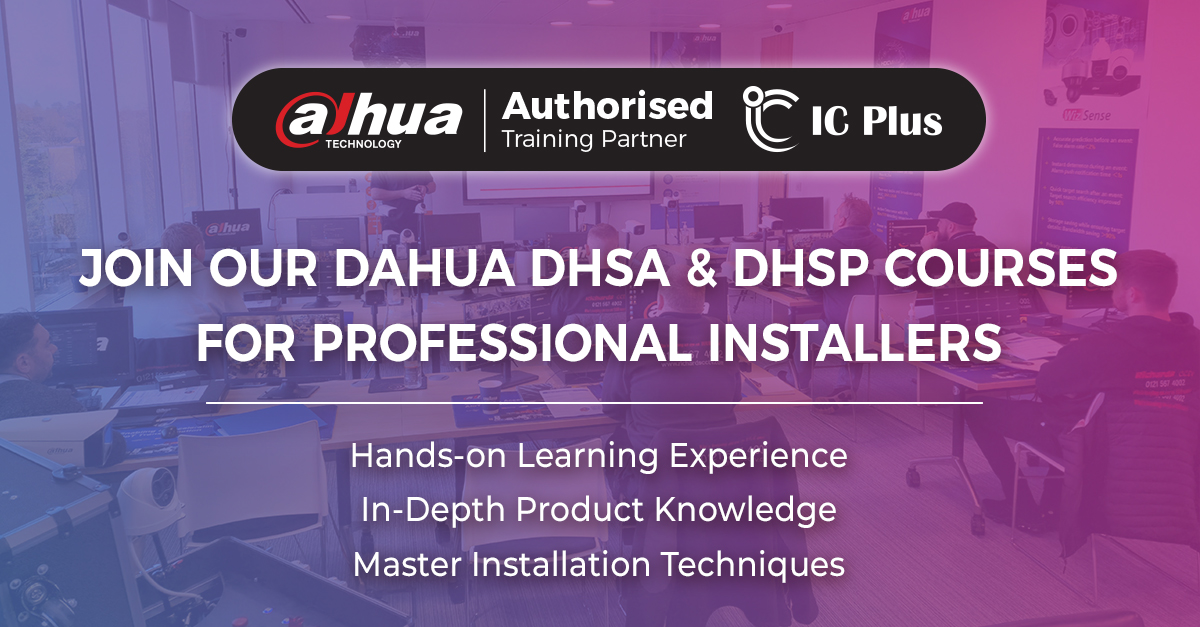 We are pleased to announce the details of our upcoming integrator training sessions on Dahua products.



These instructional gatherings are held at our Training and Technology hub situated in Citywest, Dublin 24 office, and are accessible to all our esteemed customers. Our courses, meticulously designed by our internal Technical Support team in tandem with Dahua, offer a balanced amalgamation of theoretical knowledge and practical, hands-on experience.

There are 4 levels of Dahua training that will be on offer:
VSS-DHSA (Video

Surveillance

System -

Dahua

Security

Associate) - this foundational training is designed for engineers within the security sector seeking to acquire fundamental expertise in video surveillance systems. It encompasses understanding the application and configuration of Dahua products.
VSS-DHSP (Video

Surveillance

System -

Dahua

Security

Professional) - this is ideal for engineers, system integrators, and security consultants who have completed and passed the Dahua Security Associate (VSS-DHSA) training. This course elevates your expertise, boosts your competitive edge in the industry, and deepens your understanding of Dahua's sophisticated technology, including the latest AI innovations. Upon completing the course and passing the final assessment, successful participants will be granted Dahua Authorised Installer Status - Advanced and receive a certificate.
VSS-DHSP-VTO (Video

Surveillance

System -

Dahua

Security

Professional) - Introduction, Install & Setup of Dahua intercom technology
VSS-DHSE (Video

Surveillance

System -

Dahua

Security

Expert) - this course enables you to advance your learning, bolstering your competitive position in the market. It will equip you with a comprehensive understanding of Dahua DSS (VMS) and the ability to design a complete surveillance solution.
We request a refundable deposit of €50 (inclusive of VAT) per participant to secure your spot and to arrange for meals & refreshments. Please note that in case of non-attendance or cancellation within 24 hours, the deposit fee will be forfeited. As a token of appreciation, each paid attendee will receive a €100 (including VAT) online voucher, redeemable for any order on our website. Training is only open to security integrators and trade customers of IC Plus. Vouchers are based on attending & completing the training on the selected date.

To secure a place on one of the next upcoming Dahua training dates, please email training@ic.plus or your account manager with the following info from your company:

The preferred date
Number of engineers
Engineer level
Names
We understand that these proposed dates may not align with everyone's schedules. If these dates do not suit your team, we would be delighted to arrange a personalised training day exclusively for your company. This bespoke arrangement requires a minimum of four engineers. We will collaborate with you to select a date that is mutually convenient, ensuring your team receives the most comprehensive training possible. Your satisfaction is our top priority, and we're committed to providing flexibility to meet your team's needs.