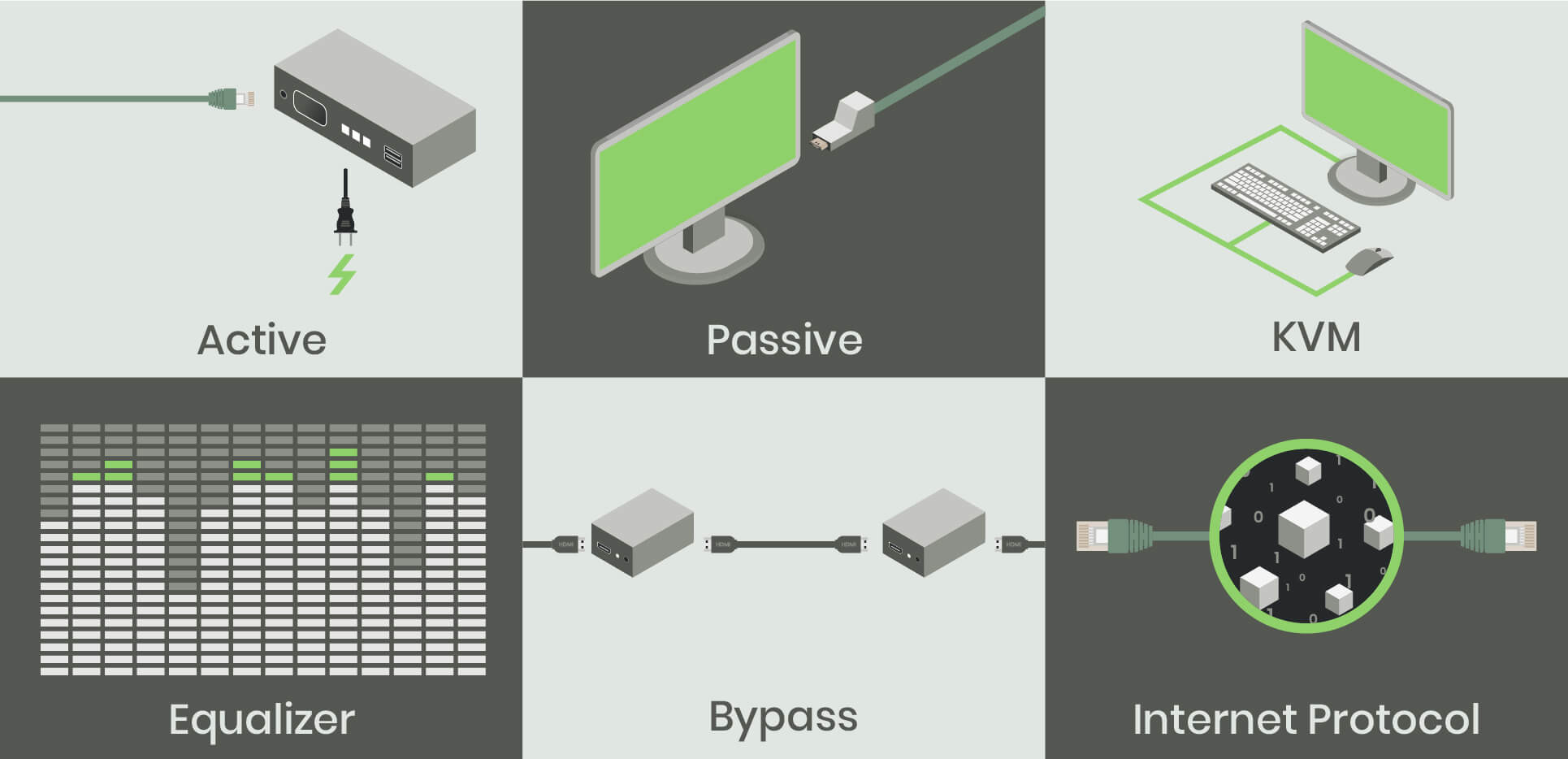 HDMI over Ethernet? Fiber? IP? Repeater? Clarify All Types of HDMI Extenders and Find the Best One for Your Equipment
Why do we need an HDMI extender?
The distance limit for a regular HDMI cable
An HDMI signal degrades as the distance goes further. Generally, 65 feet is considered the maximum reliable length for an HDMI signal and even shorter for a higher-resolution video.

Signal Interference
The HDMI signal is also vulnerable to interference caused by high-voltage electric lines, and electromagnetic devices. When it comes to an A/V environment, it always requires massive cables and complicated A/V setups that are very likely to affect HDMI signals.
Types of Interference your monitor may encounter:
Grainy picture
Floating lines/waves
Horizontal stripes
Randomly going black

Once the interference happens, the video might be affected in different ways based on the level of severity. The most common results are video and audio out of sync, blanking, black screen...etc.
Though the effect is not obvious sometimes, even minor interference can not be acceptable for A/V professionals and applications that require smooth presentation of video and audio.
Types of HDMI Extenders


Bypass
Bypass is boosting original signals for a longer distance
Advantages: No compression, no latency
Disadvantages: shorter distance
‍Fiber/Internet Protocol
Fiber uses the reflection of light and converts the signal into a totally different form to transfer Internet Protocol
Advantages: extremely long distance
Disadvantages: slight signal loss and latency, depending on technologies
1. By Chipsets
When it comes to signal transmission, chipsets are crucial components to decide the performance of HDMI extenders. Some products can be sold at incredibly low prices because they don't have chipsets in them and can only bypass the signal with unstable performance and short transmission distances. However, the products that have built-in chipsets do otherwise.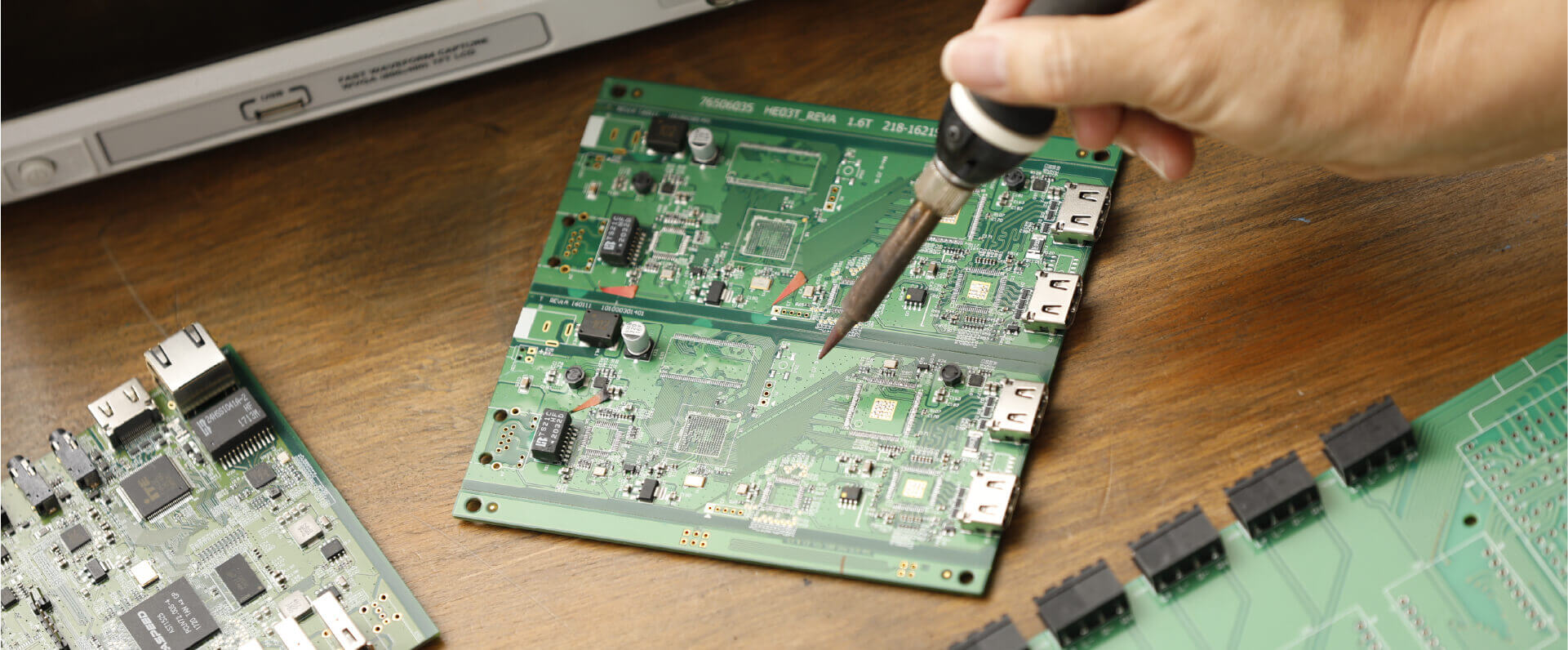 2. By Cables

An HDMI signal can be transmitted through a variety of mediums as follows:
HDMI Cables
Network Cables (CAT5e, CAT6...)
Coaxial Cables (RG59/ RG6U...)
Fiber Cables (Single/ Multi-mode)
HDMI Cable
Typically, an HDMI repeater can use HDMI cables to carry the signal. It can also equalize the degraded HDMI signal, stabilizing and sending it 65ft further without compression and compromising the native resolution. However, the device can only transfer an HDMI signal for a relatively short distance.
‍How to Connect an HDMI Extender by CAT5e or Fiber?
In this case, you will need a device like a media converter to turn an HDMI signal into a network or fiber to carry the signal. This device can be typically classified into stand-alone and dongle types.

Dongle Type
The dongle design allows you to directly connect to an HDMI source and an HDMI display, the main difference between the dongle and stand-alone design in extenders is you won't need another HDMI cable to connect to the extender and source/display.
Related Products : HE01ERK, HE01F-4K‍
Stand-alone
A stand-alone type HDMI extender typically has a transmitter and a receiver and a DC power input on each unit, having sufficient power to carry the signal(s) for a relatively long distance. It can also use different transmission mediums to achieve different distances. For regular network cables, the distance can be 100M. On the other hand, the distance can be up to 60KM using a single-mode fiber cable.
Related Products : HE03-4K, HE01F-4K6G
3. Powered or Powerless
There are also active and passive type extenders. An active HDMI extender requires power to enable the device. However, a passive one can extend the HDMI signal for a short distance without external power (power from the connected HDMI source).

4. With KVM Extension
Regular HDMI extenders can only carry video and audio signals. However, some extenders can send video and audio signals along with a USB one, allowing you to control remote device(s) like PC(s). To pick this type of HDMI extender, there are two things that should be taken into account.

HDMI can not transfer USB signal
Since HDMI signal can not carry a USB signal along with video and audio, you can only control a remote device over USB interface(s). Fortunately, USB signals can be transmitted with HDMI over one single cable like CAT5e, optical fiber...etc.
Related Products: HKM01E
USB Standards
As the HDMI signal, USB also has different versions that perform accordingly. For the USB1.1 version, it can only support a 12 Mbps transfer rate. This means that the USB1.1 device can not transfer high-volume data like high-res video, wireless control signal, and more. Some KVM products state that they can only support USB 1.1, meaning the devices can only use a keyboard and mouse, not flash drives, and webcams. For advanced USB devices, using USB 2.0 or above versions is recommended.
Related Products: HKM01-4K
5. Stand-Alone & Wall-plate Types
OOTypically, HDMI extenders are installed on ceilings, tables, and walls to remain visually integrated with the A/V environments like churches, conference rooms, classrooms, and more. Therefore, wall-plate-type HDMI extenders are created to fit the applications. Since the BYOD trend becomes more popular recently, the stand-alone type extender can be perfectly fixed on tables for users to connect their own devices while staying tidy and clean.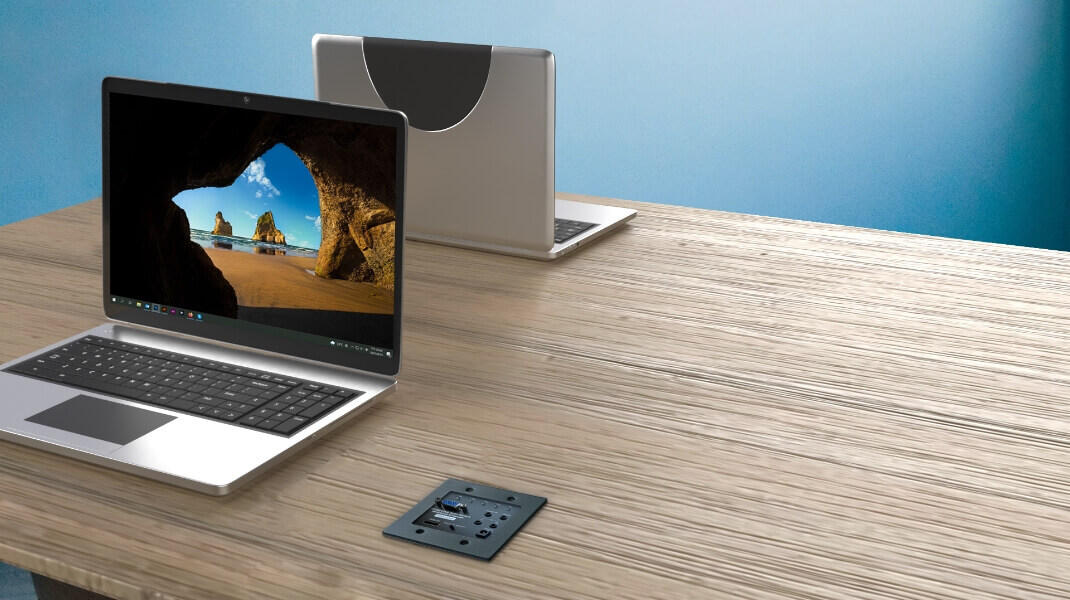 Related Products : HW01, VHE02EIP
6. Equalizer vs Internet Protocol
Although there are an ample amount of HDMI extenders using network cables to carry the signal, they are not using the same technology. Some use equalizer technology and the other uses Internet protocol which is the game-changer for the pro A/V industry. Moreover, SC&T's HDMI over IP extender can use either network or optical fiber cables to carry the HDMI signal.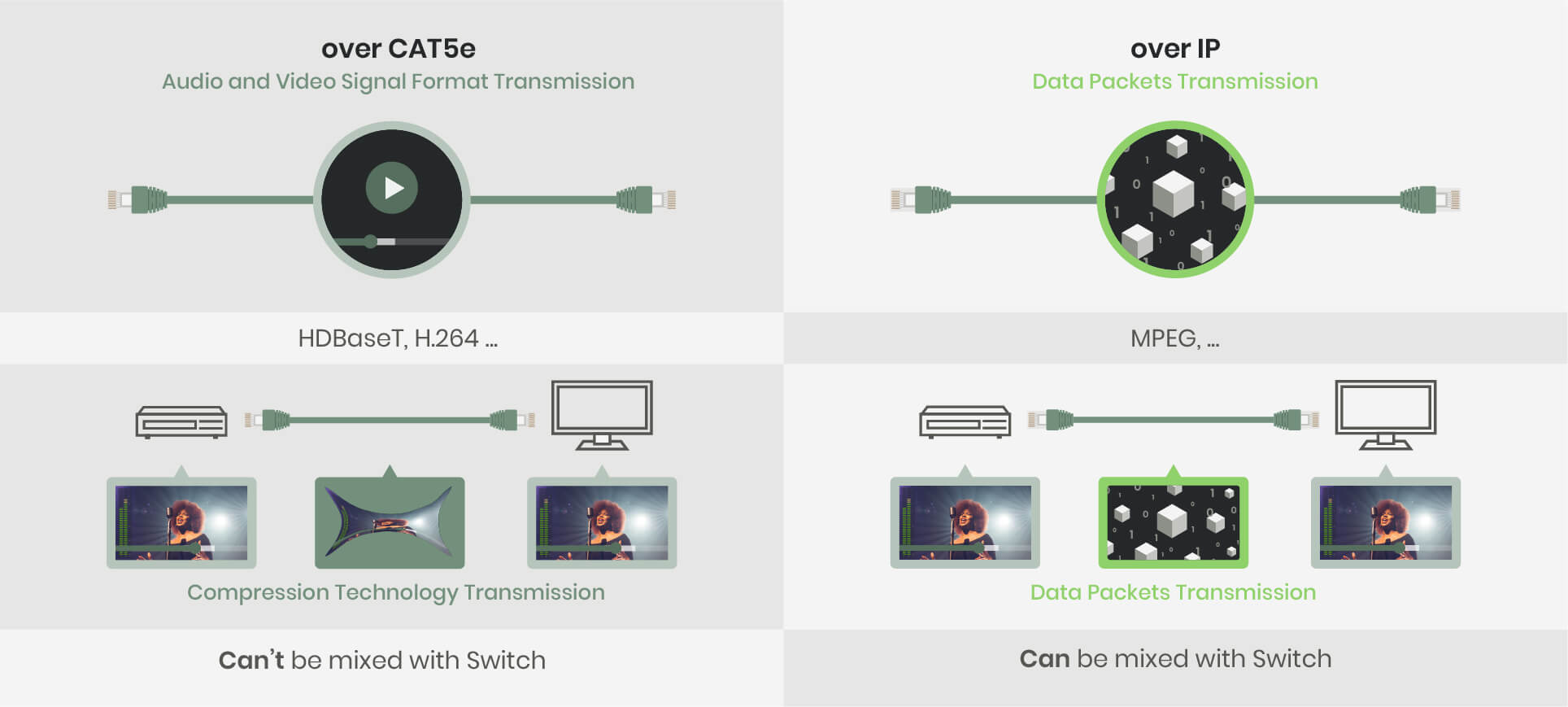 Related Products : HKM02B/ HKM02B-4K/ VDKM02B
Other Crucial Reminders
‍HDMI Repeater vs HDMI Extender
An HDMI repeater amplifies the degraded signal until it becomes the original signal and extends it for a short distance (Typically 10~20M). Moreover, the repeater can endlessly connect to each other to extend longer distances and also require a power adapter for each repeater.
As previously mentioned, an HDMI extender acts as a media converter to send an HDMI signal via CAT5e/ CAT6, fiber, and coaxial cables. Therefore, there are transmitters and receivers that connect together over different interfaces like RJ45, BNC, and LC, SC connectors.

HDMI Extender vs Long HDMI Cable
As optical fiber becomes relatively mature, there are many cable makers offering HDMI fiber cables that have built-in chipsets. This cable can send the HDMI signal through a fixed length for a long distance, but the cable does not work after being cut, which is relatively inflexible compared to economical network cables.
However, an HDMI extender allows you to select different types of cables and their desired lengths of them to extend the signal with ease.

Be Careful of Product Specs
The mainstream HDMI extenders can support resolutions of 1080p, 4K@30Hz, and 4K@60Hz. Although HDMI is backward compatible, the resolution will degrade as the distance goes further. Make sure the resolution and distance match your requirement when selecting the right products.
‍
HDMI Extenders with Special Features

With IR Control
Related Products : HE02EI‍
With ARC (Audio Return Channel)
Related Products : HE02N‍
With Audio Extraction
Related Products : HKM02B/ HKM02B-4K
Advanced Applications

Extending and Distributing Simultaneously
Firstly, figure out the location of each HDMI display and then pick the right product.
Loop out (Outputs at the same location)
Related Products : HE02EIX
Daisy Chain (Outputs at different locations)
Related Products : HE03L-4K
Extending and Distributing up to 4 HDMI signals
Related Products : HE04SEK
Why is my HDMI extender not working?
There are many possibilities your HDMI extenders are not working properly. The possible reasons are:

Inappropriate Use
Using products improperly is one of the most frequent problems. As a manufacturer, we receive a lot of returns and repairs due to:
Using products in an environment with extreme temperatures or close to the water
Using uncertified and bad-quality cables.
Using the wrong power supply, leading to damage to the product.
Water or any kind of liquid has been spilled into the product.
Trying to modify the product without instructions.
Wrong Manual Instruction
It's possible that sellers provide the wrong user manual for a specific product. When the instruction is wrong, the configuration can be wrong too and the product can be thus damaged.
Dead on Arrival
Even the quality control is a very basic process for production, there are still some companies/ factories that do not have a rigorous inspection procedure before shipment and it's very likely to have DOA issues compromising the user experience.